Vecoplan Integrated Controls-
Our Facility in North Carolina
---
Founded in 1996 and centrally located in High Point NC, VIC's U.L. listed control panel shop offers a full range of products and services. We design, build, install and service control panels. Our electrical engineers also integrate the controls of multiple machines, into a system that maximizes the efficiency of processing lines or entire factories while minimizing the manpower required for operation.
Examples of control panels designed, built, installed, and serviced by VIC include: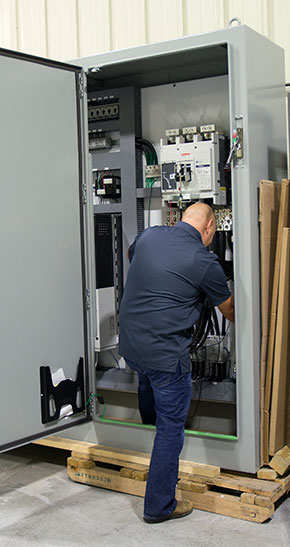 Servo Drive
NEMA
Soft Start
HVAC fan & pump
SCR
Burner Management
Single & Multi Loop
DC drive
Variable Frequency Drive
PC
HMI control
IEC Motor Control
PLC/DCS systems
NFPA 70E design
NFPA 79E Arc Flash compliant Specialized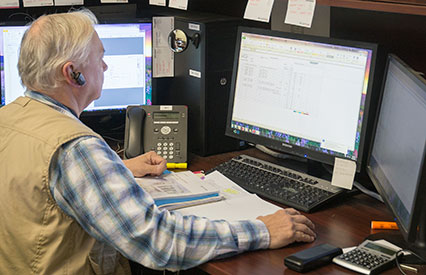 Design:
VIC designs customized control panels from scratch. But we also fabricate control panels from finished designs you provide or develop panels based upon your design specifications or concepts.
Our licensed professional control systems engineers and control designers deliver a level of expertise that can only be obtained from years of practical experience in the field. From initial CAD drawings to build-to-print, we excel at precision.
Build:
VIC builds single control panels for individual machines, multiple standardized units for OEMs and provides sub-assembly services. We build indoor and outdoor panels, including painted carbon steel, stainless steel, fiberglass and custom panel enclosures. Control panels can be built from any manufactures components, whatever brand you prefer, or we can recommend the best components for your particular application.
VIC can supply the materials and components or use customer supplied components. A Rockwell Automation Machine Builder Partner, we're also experienced with Siemens, ABB and virtually all major control component manufacturers.
VIC is certified to assemble panels to UL 508A standards and attach all necessary UL labels. We build to CSA specs and CE specs. We also do MCC – Motor Control Center modifications.
Install:
VIC ensures successful installation by adhering to stringent quality control standards in our panel shop. Printed terminal markers and wire labels that correspond to the wiring schematic are applied throughout all panels. PLC programs and drive parameters are uploaded to your control panels so that they're ready to run when installed.
Equipped with the most common three-phase control voltages, VIC powers-up, "Hot-Tests" and documents your panels before they leave the shop. VIC customers are always welcome to not only inspect, but also participate in power-up FAT – factory acceptance testing prior to shipment.
VIC provides field wiring and system startup for controls it builds, as well as for controls built by others. In either case we don't leave the site until you're satisfied. We carry a level of business insurance that meets or exceeds all requirements.
Service:
VIC service starts before the sale and continues indefinitely after the project is completed. We offer preliminary consultation and budget pricing at no charge. Projects can be firm-quoted, executed as design-build projects, built at time-plus-material or as cost-plus, whichever best suits your needs.
All VIC products and services are backed by guarantees, including VIC's two-year "Bumper-to-Bumper" free parts warranty. Most of our control panels feature built-in diagnostics. Our service technicians are ready, willing and able to provide detailed instructions by phone or onsite service as needed. From the smallest control panels to the largest multi-door enclosures, VIC supports them all.
When it comes to industrial control panels we can do it all, but are happy to provide you with only the products or services you need. Our success depends on your satisfaction.
---
VIC – The One Stop, Panel Shop – That Gives You Total Control!